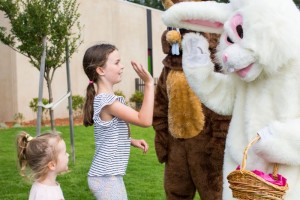 Yarra Valley Chocolaterie Free Easter Hunts
This year the Easter Hunts will take place on Good Friday, Easter Saturday and Easter Sunday at 10am, 12 noon, 2pm and 4pm (no bookings required) in the Chocolaterie's picturesque grounds, where the Easter Bunnies will help kids aged 12 and under search for a token to then claim their complimentary Easter egg.
For the grown-ups, the Chocolaterie's Café will be offering Easter inspired cakes and tarts, as well as our usual all day menu using ingredients from our own kitchen garden. And for chocolate lovers of all ages, the showroom will be choc-filled with thousands of Easter chocolates – from tiny to large decorative eggs, fun freckled eggs, filled and flavoured eggs, whimsical chocolate bunnies including our very own Floppy, chicks, hens and even a Giant Bunny using the finest couverture, nearly one metre tall bunnies, decadent truffles and more!
Friday- 10:00 am - 04:00 pm
Saturday- 10:00 am - 04:00 pm
Sunday- 10:00 am - 04:00 pm
Yarra Valley Chocolaterie Free Easter Hunts
Start: Friday 30 2018 End: Sunday 1 2018