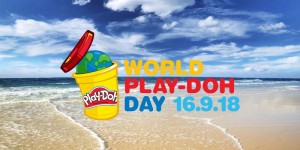 World Play-Doh Day at Luna Park
For the first time EVER in Australian history, Play-Doh are hosting a FREE event to celebrate World Play-Doh Day on the 16th of September at Luna Park (Lavender Green) from 2pm-4pm.
The event will see 10 Play-Doh tables, each with a different hands-on activities for children to make their own sculptures. The tables will highlight the educational benefits: Motor skills, creativity, communication and social skills, sensory and cognitive benefits. Each table will also be guided by an Occupational Therapist. Along with this a face-painter, balloonist giveaways and more.
There will also be an amazing Play-Doh artist installation by Megan McKean. Megan has authored, designed and illustrated three books for children, " Hello Sydney," "Hello Melbourne," and "Hello Australia".
Sunday- 02:00 pm - 04:00 pm
World Play-Doh Day at Luna Park
Start: Sunday 16 2018 End: Sunday 16 2018
Luna Park offers refreshments.