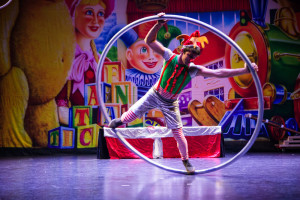 Santa's Christmas Spectacular
Santa's magical workshop comes to life in a fun filled circus adventure for the whole family!
A fantasy wonderland of family entertainment you will never forget! Starring an amazing cast of acrobatic characters performing astounding feats with hilarious antics that will keep you enthralled and in wonder!
Will the mischievous Elves finish all the Christmas toys in time? Can the beautiful Snow Fairy escape from her dome? Is Santa going to make it in time to deliver everyone's presents?
Christmas Spectacular would not be complete without a visit from Santa himself taking some time out from his very busy schedule to make an appearance in this extraordinary show and meet the little ones after the show!
Dates: Every Friday, Saturday and Sunday, between the 23rd of November to the 23rd of December 2018
Start: Friday 23 2018 End: Sunday 23 2018
Anyone under 15 years old to be accompanied by an adult.