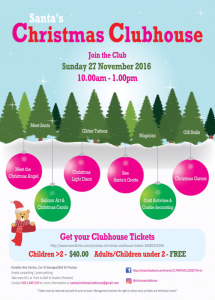 Santa's Christmas Clubhouse
Santa Claus / Disco party / Alex the Magician / The Real Christmas Angel / Christmas stalls / cookie decorating / art / craft and more!
A little Christmas extravaganza for all the good little boys and girls of Melbourne.
Please come and join the club on November 27 at the Darebin Arts and Entertainment Centre.
Tickets $40.00 plus booking fee (Adults/babies FREE)
Sunday- 10:00 am - 1:00pm
Santa's Christmas Clubhouse
Start: Sunday 27 2016 End: Sunday 27 2016
$40.00 for kids (adults / babies are free).
Pre-purchase tickets online.
Ample pram space via ramp.
Lounge area foyer for feeding.
Minimal refreshments on offer.