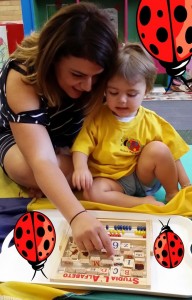 La Coccinella Pre-School, Coburg
La Coccinella is an early learning language program specialising in teaching Italian language and culture to children aged 3 months – 7 years. La Coccinella program is a fun dynamic immersion program, that teaches Italian hands on!
Children learn Italian through art, music, stories, dance and games. Classes are developed by Maestra Dora who is qualified and a registered teacher and native Italian speaking teacher who get all the children dancing, creating, playing and singing… all in Italiano of course!
Wednesday- 09:30 am – 05:30 pm
Thursday- 09:30 am – 05:30 pm
Friday- 09:30 am – 05:30 pm
La Coccinella Pre-School, Coburg
Ages 3 months to 7 years.
Parents are required to stay for class.
Ramp, no stairs, Prams are easily accessible. Disabled ramp access.
If you need to feed baby during the lesson, no problem at all.
Fantastic coffee shops on Sydney road. Many mums meet socially after class.
Multiterm discounts. Casual one off class, Sibling discounts, discounted sessions.