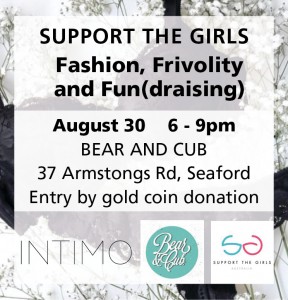 Fashion, Frivolity and Fun(draising)
The fundraising event is to benefit Support the Girls, a charity that provides the basic necessities of undergarments, sanitary items and toiletries to homeless women and women who may otherwise go without.
The night will feature an exclusive preview of the much anticipated Intimo Spring/Summer Collection of garments and lingerie, including the revamped maternity range, door prize (value $255) raffe drawers, light refreshments and free professional bra fittings.
And don't forget to bring along a donation of your old good quality bras or some sanitary products or toiletries for Support the Girls to distribute to local women in need.
Wednesday- 06.00pm - 09.00pm
Fashion, Frivolity and Fun(draising)
Start: Wednesday Aug 30 2017 End: Wednesday Aug 30 2017
Light refreshments will be provided.