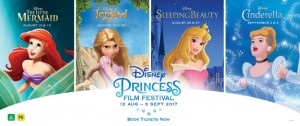 Dust off your favourite princess or prince outfit Reading Cinemas is bringing your favourite Disney classics to the big screen nationally with their Disney Princess Festival from August 12.
Each weekend your local Reading Cinema will feature one of your favourite Disney beauties. You can deep dive with Ariel, go on an adventure with Rapunzel, dream big with Aurora or dance along with Cinderella!
The Little Mermaid
Saturday 12th & Sunday 13th of August
Tangled
Saturday 19th & Sunday 20th of August
Sleeping Beauty
Saturday 26th & Sunday 27th of August
Cinderella
Saturday 2nd & Sunday 3rd of September
All screenings are at the family friendly time of 10am, but come a little earlier at 9.30am and soak up the fun with activities such as face painting, activity corner to keep the kids entertained and a best dressed prize.
Start: Saturday 12 2017 End: Sunday 3 2017