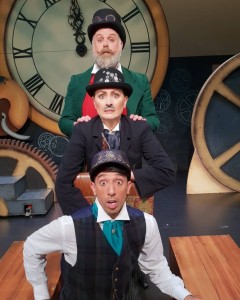 Around the World in 80 Days, Riverside Theatres Parramatta
Jules Verne's epic adventure story, Around the World in 80 Days, will come to life in a fun, farcical adaption suitable for the whole family at Riverside Theatres on 14th and 15th August.
Stampeding elephants, raging typhoons and runaway trains! Join intrepid adventurer Phileas Fogg and his faithful manservant as they set out to win an outrageous wager by circling the globe in an unprecedented 80 days. Daring deeds, daft Victorian invention and downright silliness abound as three actors portraying 39 characters traverse seven continents in one of the greatest stories of all time.
Big Ben chimes midnight and within minutes the central London bank is 40,000 pounds poorer. We never see the face of the robber, but they are fanatical about time and have a slight cough. Perhaps it is a complete coincidence our hero coughs gently and is constantly checking his watch!
Perhaps it is also a coincidence he unexpectedly places a wager of 20,000 pounds with fellow members of a London gentleman's club that he can travel the world in a mere 80 days, and he suddenly leaves the country! Pursued by a relentless Scotland Yard detective, Phileas must stay ahead of the law, stay on schedule and win the bet.
Tuesday- 08:00 pm - 09:15 pm
Wednesday- 08:00 pm - 09:15 pm
Around the World in 80 Days, Riverside Theatres Parramatta
Start: Tuesday 14 2018 End: Wednesday 15 2018
Venue has a kiosk with small meals and food options. Church St is nearby with plenty of choice.